Rio Linda HS Jazz Ensemble Needs Help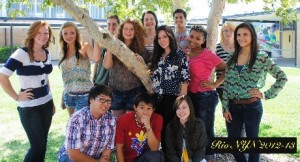 Congratulations to Rio Linda High School's Jazz Ensemble Rio NYN for their invitation to the Fourth Annual New York Voices Jazz Festival . The festival will be held at St. Charles North High School in the state of Illinois on Saturday, April 6, 2013.
According to an email from the Twin Rivers Unified School District, of the 200 schools that auditioned, Rio NYN is one of only six high school vocal jazz ensembles to be accepted to perform.
We are excited to have our students selected for such a prestigious event and represent our school and community.
The group is looking for donations to help fund the trip to Chicago.
To see how you can help, contact Craig Murray (Rio NYN Director) at craig.murray@twinriversusd.org.