By: Supervisor Sue Frost
Rachael King was a manager at the Noodles Restaurant in Folsom and was a proud recipient of the September 2018 Sacramento County Food Safety Award of Excellence. Four months later she died after taking a pill that unbeknown to her was laced with Fentanyl.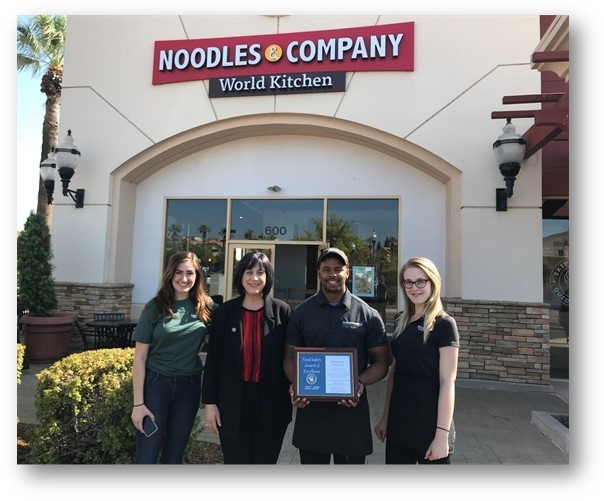 It's difficult to share this with you and I want you to know that I talked about it with Rachael's parents who allowed me to share some of her story.  Rachael was a valedictorian and an aspiring chef with dreams and a bright future.  She was the only daughter, and her death was a devastating blow to her parents, brother and all who loved her.  Her parents have tried to advocate for justice and have been an inspiration behind important programs emerging as the increase in Fentanyl deaths cannot be ignored.  I am dedicating this newsletter to Rachael.  I believe she would want to warn others about "Fentanyl – One Pill Can Kill."

Do you remember "Every 15 Minutes" or "Arrive Alive Drive Sober?"  For those who don't know, they are reality-based programs designed to challenge teenage students and parents to think before driving drunk.  I recently attended a similar program at Folsom High School that was hosted by Arrive Alive California, Inc.  Their program is called "Fentanyl – One Pill Can Kill."  I was a proud champion of this program which was funded by Sacramento County's ARPA in response to the growing drug problem in our region.  During their program I heard personal testimonies from parents, shocking statistics, and an ambulance professional shared that if someone overdoses and you call 911, the health professionals do not report your drug activities.  They talked about the symptoms.  If the person is unconscious, small pupils, shallow breathing, vomiting, inability to speak, faint heartbeat, limp arms and legs, or discolored lips or fingernails, call 911.

Fentanyl is a powerful synthetic opioid that comes in many prescription forms.  It is similar to morphine, but I am told it is up to 100 times more potent.  It is typically used to treat severe or chronic pain for people who are physically tolerant to other opioids.  Since 2020 the use of opioids, especially Fentanyl, has grown exponentially.  In the past three years, according to Sacramento District Attorney Thien Ho, there have been 360 Fentanyl poisoning deaths in Sacramento County.  That is more than gun-related homicides, he said.

For those who want justice, it is challenging.  In general, most Fentanyl deaths are listed as accidental overdoses.  They accepted the pill from a friend or paid a dealer for a street drug, not realizing it was laced with Fentanyl.  The pills look just like prescription pills.  At the crime scene, people may say that the person was fine when they went to bed and there was no indication of a problem, but for law enforcement to pursue a murder investigation they would need to show intent to kill or reckless disregard or indifference to human life.  Further, if the case report lists accidental death, then the case follow-up is under that assumption, and it is not technically a murder investigation. This has been a heartbreaking disappointment for family members who are screaming for justice and want to prevent the future loss of innocent lives.

I recently met with Sacramento D.A. Thien Ho to discuss the justice dilemma.  He expressed the seriousness of this matter and shared that he has a four-part plan. Then he told me about how cases are built piece by piece, and he is establishing processes to set the stage for documenting a case on record.  Then we talked about the difference between implied malice and express malice.  Implied malice refers to a person's intention to cause grievous bodily harm.  Express malice murders include killings where the person intended to cause death. In contrast, implied malice includes killings that occurred while a person was committing a felony or when deaths resulted from an action that displayed a depraved indifference.
District Attorney Ho's plan includes a "Watson Warning" which is given to defendants who are found guilty of selling Fentanyl. If they sell Fentanyl again and cause injury or death, they can be charged with a much more serious crime – including murder.  He is calling for Regional Response Teams.  Sacramento is working with other County's (Riverside, San Bernardino, San Diego, Placer) to learn about how they are building out their response.  He is partnering with our Sheriff and other agencies to create Fentanyl Response Teams.  There will be a protocol in place to retrieve phones to look at texting and collect evidence. A drug task force would trace dealer connections and when a dealer is associated with several deaths it is possible to begin to build a case on record that shows reckless disregard.  Other Partnerships with the U.S. Attorney General and the Eastern District will be pursuing more legal solutions and finally the Education Programs such as the Fentanyl – One Pill Can Kill is a program that is targeting youth in schools to help them understand, "FENTANYL – ONE PILL CAN KILL!"
We cannot bring Rachael back, but her life was a precious gift to our world and it mattered. If you have pain of any kind, buyer beware… One Fentanyl Pill Can Kill. Other drugs and even marijuana vaping have been laced with Fentanyl and killed innocent people!  The best advice when considering recreational street drugs is "Just Say NO!"
Thank you for reading – and as always, if you want to contact me, call me at 916-874-5491, or e-mail me at SupervisorFrost@saccounty.net. Sacramento County Supervisor Sue Frost represents the 4th District, which includes the communities of Citrus Heights, Folsom, Orangevale, Antelope, North Highlands, Rio Linda, Elverta, and Rancho Murieta.