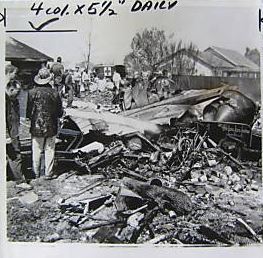 Something I just discovered… Apparently on April 10, 1958 a USAF F-102 Delta Dagger crashed into the backyards of two Rio Linda homes after taking off from McClellan AFB.
According to the San Mateo Times, "Witnesses said the delta wing plane piloted by 1st LT. Daren G. Webster. 26.  of Tacoma, Wash., sputtered and faltered in flight before starting its death plunge. A last second decision of the pilot saved the lives of persons living in the homes which the plane narrowly missed in its plunge "like a bullet" toward the earth after taking off from McClellan Air Force Base for a flight back to McChord AFB near Tacoma. He was killed on impact, scattering wreckage around the two adjoining back yards."
Does anyone remember this happening? Anyone know exactly where the plane went down?
The pilot's obituary from the Marin County Independent Journal:
Independent Journal
Friday, April 11, 1958
Page 6

Rites Monday For Victim Of Jet Crash

Memorial services will be held Monday in Tacoma, Wash., for 1st Lt. Daren G. Webster, who was killed Wednesday when his supersonic jet fighter crashed near Sacramento. Burial will be in the Portland (Ore.) National Cemetery.Lieutenant Webster, who was 26, was the son of Mr. and Mrs. Norman B. Webster of 531 Magnolia avenue, Larkspur. He had a 21-year-old sister, Shirley, a graduate of College of Marin, who lives with her parents in Larkspur. He is survived by his wife, Carrollee, and two children, D'Ann, 3, and Daren Jr., 1, also in Tacoma. Lieutenant Webster was stationed at McChord Air Force Base near there. He attended San Diego elementary schools and was graduated from South Fork High School in Miranda, Humboldt County. He received a bachelor of science degree from Oregon State University.
Here is a picture of an F-102 in the collection at the Aerospace Museum of California at McClellan Field.