With all the talk of the storm of the decade coming this week, I thought we could revisit the 1995 floods. Following is a reprint from the Sacramento Bee, from January 18th 1995. It was written by Bee staff writers Nancy Vogel and Art Campos.
---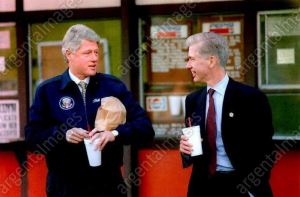 With a visit to Roseville Tuesday, President Clinton raised hope of a fix for water-weary neighborhoods. And with a surprise sidetrack to Rio Linda, he satisfied residents that their troubles matter, too.
"We thought we were going to be forgotten," said Rio Linda native Colleen Robbins, 37. "Everybody's talk, talk, talk about Roseville and there are other areas that were hit just as bad."
Though at least one Rio Linda resident called him an "opportunist," Clinton generated smiles.
A crowd of about 200 Roseville residents brightened visibly when Clinton finished a brief speech in the middle of the hard-hit intersection of Tina and Elisa ways and approached them to shake hands.
"It was a once-in-a-lifetime chance to meet the President," said Charles Kuchlenz, 16, who stayed home from school to help repair damage to his grandmother's home on Tina Way. "My friends are going to be mad because I was here and they weren't."
In Rio Linda, roughly 300 people gathered at the Rio Linda Community United Methodist Church to cheer Clinton, who mingled at the edge of the crowd.
Grown men cried, "I shook his hand!" and one small boy on his father's shoulders screamed repeatedly, "Hi, Bill!"
Jessica Marie Sanchez, 6, gave the president her crayon depiction of Socks, the Clintons' cat. She had drawn it Monday, not knowing that she would deliver it personally a day later.
Two men reportedly were arrested by federal agents in Rio Linda on charges of threatening the president after they made offhand comments about bringing guns to Tuesday's event, according to John McGinness, spokesman for the Sacramento County Sheriff's Department.
The two arrests came in separate incidents involving a businessman and a 19-year-old whose names were unavailable from federal agents Tuesday night. No guns were found on either suspect, McGinness said. The Secret Service declined to comment.
Roseville Mayor Mel Hamel called the president's trip to flood-damaged areas a "jump-start for the people."
"It will boost morale. When the most important person in the country thinks it's important enough to come to your community, you can't help but feel something will get done."
For many residents, the stir created by Clinton meant something might be done soon to help repair their homes and fix the source of the flooding.
"I just feel that if anybody can help us, he can," said Carol Sandsor, an Elisa Way resident who shook hands with Clinton. "I want to stay in the neighborhood but I don't want to worry every time I hear a thunderclap."
"Now I know they're going to do something about the flood problems in this neighborhood," said Elise Lee, another Elisa Way resident. "Since this is the second flood in nine years, I bet they won't let it happen again."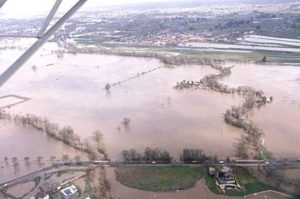 Asked what she hoped for from the president, Rio Linda native Robbins said, "My main concern is that they do something with our levees and creeks. They need to be cleaned out and revamped."
For her, waiting for the president was a break from ripping out walls and carpet in her 6th Street home, which took on 4 3/4 feet of Dry Creek overflow last week. After the home flooded in 1986, she got an $11,000 federal grant for repairs. She also bought flood insurance.
Monica Ortloff and Wanda Rhodes, without flood insurance, hoped the federal government would deliver. With a contractor scheduled every half-hour all day, they couldn't get away from the muddy Cherry Lane home they own to go see Clinton.
Without a federal grant, they said, they risk losing the home to foreclosure.
Creeks overloaded by a deluge washed into 300 homes in Roseville last Tuesday, causing an estimated $7.6 million in structural damage. In Sacramento, more than 1,200 homes were flooded, causing an estimated $5 million in damage, said County Executive Bob Smith, citing city figures. And in the county, with an estimated 600 homes and 250 businesses swamped, suffered an estimated $50 million in damage, Smith said.
Those in Rio Linda said they were pleased that the president bothered to visit.
"I'm glad he did come here," said Sheila Rankin, 40. "We get cut down by Rush Limbaugh. We need something on our side. It's like people here don't count."
On the way back to McClellan Air Force Base, Clinton stopped his entourage and stepped up to the window at the Archway Frostie on Rio Linda Boulevard. He ordered a bowl of chili and a large diet Pepsi.
"No cheese or onion, though," said Frostie worker Eric Biersteker.
"It was exciting," he said. "And by the way, his presidential food person came in and made sure I didn't spike his chili."