Many of you may have heard about Erwin Hayer's passing this past week. However, many of you don't know why he and his family were so very important to the history of the community. To celebrate and commemorate his life, here is the biography of Erwin Hayer.
Thanks to his sons Jeff and Greg and the rest of the Hayer family.
Erwin Earl Hayer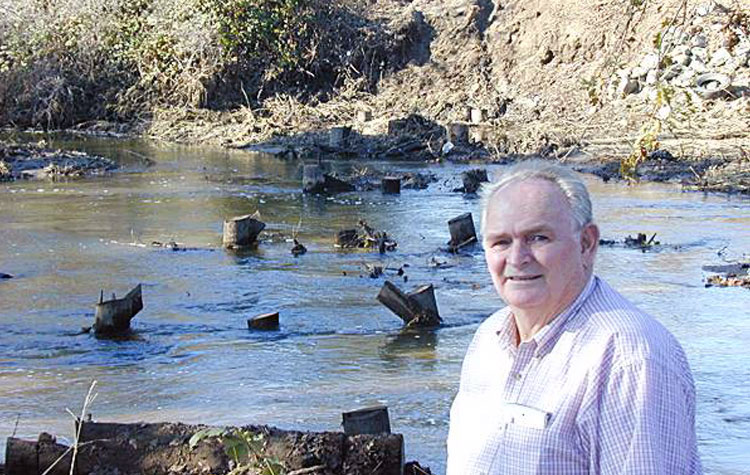 Born June 25, 1936 in his father's grandparents' home south of Modesto, California.
Father; Roiden (Roy) Earl Hayer, Mother; Lillian Clark (Parker) Hayer, Siblings; Arnold Andrew Hayer, Henry Travis Hayer and Bette Marlene (Hayer) Bastian.
His father Roy and uncle, Elmer Arnold Hayer, graduated from Rio Linda Elementary School on Sixth Avenue in the same class in 1927.
He was raised on a dairy farm south of Modesto until September 1941 when his parents sold the dairy and moved to Rio Linda so his father could work at McClellan Field to support WWII.
They moved into a home on 30th Street, just north of A Street that his grandfather, Oley Earl Hayer had built around 1922. That home was removed during an extension of McClellan AFB Runway and the property is now part of McClellan AFB.
They then moved into a two-story home on the east side of 20th Street, just north of G Street. While living at this location, his father taught him to arc weld during the design and construction of specialized farm equipment that was not available to purchase. He also had the chore to feed and milk the one cow they had at this location to have fresh milk. The cow was milked morning and evening 365 days per year.
Erwin started the first grade at the Rio Linda Grammar School in the fall of 1942 and graduated in June of 1950.
His parents leased about 303 acres from Max Baer and Ancil Hoffman and started a dairy farm in 1946 and then purchased the property in 1947.
Erwin's father purchased a Military Barracks from Camp Kolher and moved it in two sections to 5917 Dry Creek Road to use as a fabric shop for general aviation aircraft repairs. Roy Hayer and Ed Bailey built the Bailey Landing Strip on the West Side of Dry Creek Road around 1948 and the runway was about 1800 feet long. The runway started at A Street, now Ascot Avenue, and continued to the creek on the north end. The plans were to bridge the creek and continue the runway to E Street which would make a 2600 foot long runway. Roy Hayer was then injured and they finished the barracks into a home.
Around 1948 Roy Hayer built a shop at 5917 Dry Creek Road to use for the maintenance of the farm equipment. The shop was built with concrete tilt-up walls and Roy designed and fabricated all of the equipment and forms to do this.
Erwin overhauled his father's Oliver-70 6 cylinder tractor one winter while in the Rio Linda Elementary School. He dissembled the engine and installed new pistons, sleeves, rings, and bearings and put it back together and it actually ran! His father was working swing shift at McClellan AFB and was at work when Erwin returned home from school. He had left for school before his father got up in the morning. They discussed the overhaul on the weekends and his father left him notes during the week.
During his elementary school years, his father taught him how to operate farm equipment. Erwin worked with his father in the dairy milking the cows and worked with the farm equipment to grow feed for the dairy animals.
Erwin Hayer plowed the high ground for winter crops that we were unable to gravity irrigate from the creek with the dam. This property is now occupied by the Rio Linda Junior and Senior High Schools and the Western Acres Subdivision.
During his high school years, Erwin farmed the area north of G Street and west of Tenth Street as part of his Future Farmers of America Agriculture Class. This is now the playground for the Rio Linda Junior High School. (Editor's note: How interesting it is that the ag barn for RLHS now sits on that property.)
Roy wanted to move his barn, about 100 feet wide and 80 feet long, from the location at 5917 Dry Creek Road to about 820 G Street. They graded two trails/roads from the original location to the new location with a 90-degree large arc turn to the west, cut the poles off and jacked the barn up and put skids under the poles, then waited for some rain to wet the two roads to make it easier for the skids to slide. With five tractors connected to the skids, they moved the barn almost 1/2 mile to its final location. It did not fall down. Erwin was driving one of the tractors. This was done before the start of the Western Acres Development.
In the spring of 1954, he entered the Farm Mechanics Competition at the UC Davis Picnic Days representing the Future Farmers of America Class at Grant Union High School and placed second.
Erwin attended Grant Union High School and Graduated in June 1954. He also attended one year at Grant Technical Junior College and decided school was not for him.
He joined the Air National Guard on Roseville Road on 26 July 1954 and completed basic training at the Del Paso Heights ANG Base, now called North Highlands Air National Guard Station.
He helped his father on the dairy until he left for the Air Force School in 1956. In 1954/55, while attending Grant Technical College, he also helped on the surveying and construction of the new runway to replace the Bailey Landing Field (Rio Linda Airport).
Erwin used his father's equipment to construct the current Roy Hayer Memorial Speedway in 1956/57.
He attended an Air Force Ground Power School in June 1956 and graduated with honors in October of the same year. The Air Force School Commander asked who he was and where did he come from just before graduation. They wanted to keep him there as an instructor.
He was hired by the Air National Guard as a full-time Civilian Air Technician, inspecting and repairing military vehicles and electrical generator sets on 1 Nov 1956.
Continuing in this capacity, Erwin worked his way up in rank to Senior Master Sergeant and became the Military Superintendent of the Electrical Power Production Section, Heating, Ventilation, and Air Conditioning Section and the Support Equipment Section.  In his civilian capacity, he continued inspecting and repairing all of the military equipment in the aforementioned sections, including lesson plans and mockups for training the military personnel in the same sections.
He participated in the Sacramento area Rocket Research Institute in 1957-58 teaching school-age students about Rockets.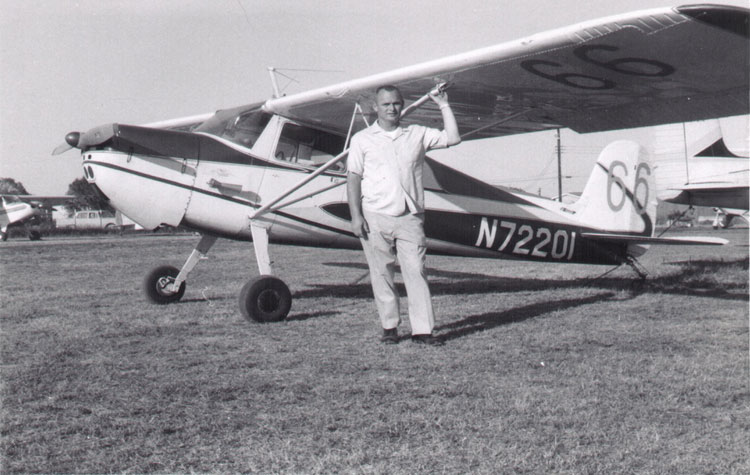 Erwin earned and received a Private Pilot License in 1964 and entered the Hayward to Las Vegas Proficiency Air Race with ten other aircraft from the Rio Linda Airport's American Aero Club in 1965.  These ten aircraft placed in the top twelve positions out of about eighty aircraft entered.  He placed 4th with Russ Kilmer.  The aircraft was called Air Race 66, assigned by the race committee.
He flew guests of the Rio Linda Chicken-N-Que for about a 30-minute flight to Sacramento, Folsom Lake, and back to Rio Linda Airport in 1964 and later.
Erwin married Sandra Kay Carlton in April 1966. They had three sons; Jeffrey, Gregory, and Steven. Twelve grandchildren; Brian, Susan, Marcia, Brodie, Amber, Gregory Jr, Emily, Zack, Samantha, Ashley, Alexis, and Amanda. One great-grandchild; Miranda, with two more great-grandchildren on the way.
In January 1967, Erwin attended an Air Force Advance Course in January 1967 on the solid-state electronics that was coming out on the new electrical generator sets.
He assisted the California Department of Justice by installing two Air Force Generator Sets for backup electrical power to the "Law Enforcement Consolidated Data Center" computer system when they had a major failure of their backup generator set in July 1974. Attorney General Evelle J. Younger sent him a Thank You letter.
Erwin was also assigned additional duties and sent to Air Force Schools on aircraft load and balance. Another additional duty was Certification for airlift of Hazardous Materials. He performed additional duties as Ground Safety NCOIC and Assistant Base Fire Marshal.
He was sent out on many state emergency projects, earthquakes, flooding, and fires many times and to supply electrical power to fire camps and communications equipment. Additionally was involved with supplying electrical power to Folsom Prison when their main transformers exploded and caught fire on 25 June 1986, his 50th birthday.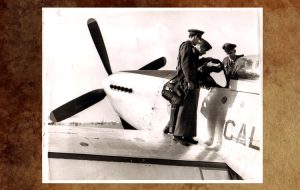 Erwin was deployed to Twenty Nine Palms Marine Base in 1978 with the 162nd Communications Group to support the Contractors Fly Off of the F-15 Fighter Aircraft with long haul communications.
He received a Thank You letter from President Jimmy Carter in 1979.
Erwin was deployed to Korea in support of Team Sprite in 1981, after which he received a second Thank You letter from President Jimmy Carter in 1981.
He was deployed to Wendover AFB, Utah in 1982 with a large crew from the Air National Guard 149th Communications Squadron. The purpose was to re-open the closed AFB, check the electrical distribution and communications systems, make the water system serviceable, and prepare the barracks and Dining Facilities for arriving Air Force personnel. This was to be an Operational Readiness Inspection (ORI) for the first operational F-15 Fighter Unit from the 1st Tactical Fighter Wing at Langley AFB, VA.
In January 1985, he supervised the electrical power supply and distribution system for the "Air Force Tops In Blue Super Bowl XIX Halftime Show" at Stanford Stadium. Tasked to design, construct and supply the Power Distribution System for the five entertainment stages that moved onto the football field for the half-time show. It included supplying and operating the Generator Sets. Five Air National Guard members volunteer to assist with the installation of six Power Distribution Panels, 2,100 feet of 350 MCM Electrical Cable, 3,400 feet of 3#4 and 3#10 Power Cable, 340 feet 3#12 Power Cable, 170 feet of 5#12 Power Cable, 1,000 feet of 2#16 Power Cable, 2,625 feet of #2 Ground Cables and two 100,000 Watt Diesel Engine Generator Sets.
He was deployed to Korea a second time in support of Team Sprite in 1986.
Erwin retired from the Air National Guard and Air Force in June 1996 with 41 years, 10 months and 28 days of service and received a Thank You Letter and Certificate from President William (Bill) J. Clinton during the retirement party.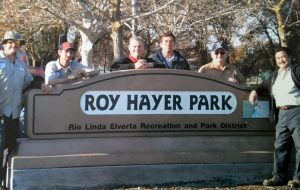 He played Santa at Country Club Plaza Dec 2000 and was listed in Sacramento Bee's "People" in January 2001.
Erwin attended and participated in the development of the Sacramento County Multi-Hazard Mitigation Plan during 2004 which was approved by FEMA 21 March 2005 and ready for adoption by all participating agencies.
He was listed in the Rio Linda Elverta NEWS as "People In The News" in April 2006 and was listed in Sacramento Bee's "Nostalgia Central" in December 2006.
Erwin received the "Ruby Wilson Community Service Award" for 2007, was Rio Linda Elverta Chamber "Featured Member of the Month", January 2009 and served as a Director on the RLE Incorporation Committee, RLE Chamber of Commerce, Dry Creek Parkway Advisory Committee and was serving the RLE Community Awareness Safety Alliance (CASA).
At the time of his passing, he was a member of the RLE Historical Society, RLE Chamber, RLERPD Safety Committee, Air Force Association, National Rifle Association, AARP, CNAA, and a proud advocate of his Rio Linda/Elverta Community.
He entered into Rest January 1st, 2015 peacefully at his home in Rio Linda, Ca.
A viewing is scheduled for Saturday, January 10th 10am-2pm at Sunset Lawn Chapel of the Chimes, 4701 Marysville Blvd in Sacramento.
His Celebration of Life will be held Sunday, January 25th from 12pm to 3pm at Rio Linda's American Legion Hall, 6700 8th Street in Rio Linda.