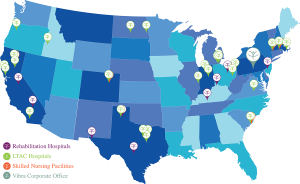 Mechanicsburg, Pennsylvania-based Vibra Healthcare LLC plans to develop a new inpatient rehabilitation hospital in North Natomas, the company announced Monday.
The hospital will be on a 6.23-acre lot at 10 Advantage Court near Interstate 5, according to the company. It's expected to bring around 150 new jobs to the area, about two-thirds of which will be medical staff, according to Michael Long, president of Vibra's rehabilitation division.
It will cover 59,506 square feet, with two stories and 50 patient beds. Construction of the hospital will cost an estimated $40 million, according to Long, and is expected to start in early 2019.
Source: Sacramento Business Journal