One Year Later Hayer Memorial Speedway Going Strong | North Sacramento News.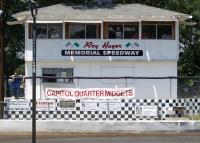 One year after the Rio Linda/Elverta Recreation and Park District worked with the community, Sacramento County, State of California and Capitol Quarter Midget Track Association to save the Hayer Memorial Speedway from demolition, the racing club is going strong! President Ken Loveless reports they have completed 8 of the 12 scheduled races for 2009, averaging 50 cars per day. That translates to 30 drivers, 100 parents, grandparents and siblings. Park District Board Director, Lisa L. Morris, who was pivotal in the preservation of the track states, "That is fantastic since the track was scheduled to be turned into a grass field. It's great that the track continues as successful as it is."
The club has 20 novices newly graduated or training and a huge increase in membership. "The Hayer Memorial Speedway is so respected by the Race Association, it is scheduled to host the Dirt Grand in August 2010," said President Loveless. "What impressed me the most was their attention to safety and the families involved," stated District Administrator, Don Schatzel. The "Dirt Grand" location rotates from east coast to west coast, and next year it will be held in Rio Linda. "That's a lot of people visiting our community and shopping, hotels, buying gas; that's good for our economy," remarked Park District Board Director, Duane Anderson. "Now that the CQMA has a lease with the Park District, there is a new focus to the club. We don't have to worry about losing our track," said President Loveless.
One year later, Rio Linda's Historical Race Track and Program continues growing and having fun. The track is located adjacent to Dry Creek, Hayer Park, at the West end of G Street, near the Rio Linda High School and middle school field. "They are very quiet. If you didn't know they were having a race, it would be hard to tell they were there," said Park District Board Director, Loren Monroe Jr.
For additional information, call the Rio Linda/Elverta Recreation and Park District at 916-991-5929.