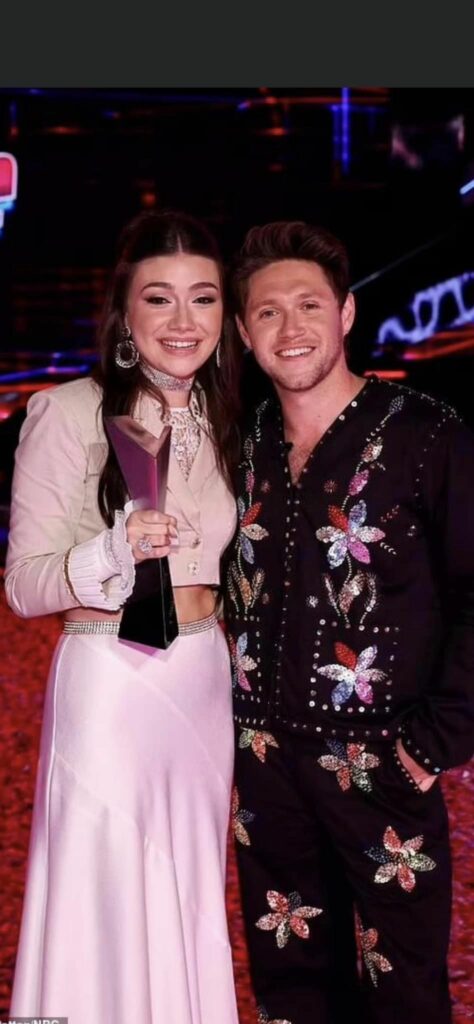 In a thrilling conclusion on Tuesday night, Elverta's Gina Miles emerged as the triumphant winner of the 23rd season of the popular singing competition, NBC's "The Voice". The victory not only crowned Miles but also marked a significant milestone for coach Niall Horan, who celebrated his inaugural win on the show.
As the host, Carson Daly announced the long-awaited results, a surge of joy propelled Horan towards the stage, where he enveloped Miles in a heartfelt embrace. Clearly overwhelmed, Miles stood in awe of her remarkable achievement.
Horan joined the coaching panel this season and is already slated to return for the upcoming 24th season, ensuring his continued presence.
Earlier in the evening, Miles captivated the audience with her soulful rendition of Billy Joel's timeless classic, "New York State of Mind," alongside Horan. This exceptional performance propelled the 18-year-old singer to surpass her formidable competitors, including Grace West and NOIVAS from Team Blake, Sorelle from Team Chance, and D. Smooth from Team Kelly.
In pursuit of her musical aspirations, Miles left Paxton, Illinois, after her junior year of high school and moved in with her aunt in Elverta where she's been attending Community Collaborative Charter at McClellan for her Senior year of high school.
Despite her young age, Miles has already made waves in the music industry, having released her debut EP, titled "Who Are You," in 2022. The budding artist initially caught the attention of the judges during the battle rounds, delivering a captivating rendition of Bon Iver's "Skinny Love." Expressing her gratitude ahead of the finale, Miles shared with PEOPLE magazine her intention to savor every moment of the show's culmination.
"Regardless of the outcome, I'm determined to make the most of this experience," she declared. "Winning isn't the sole focus for me; it's about embracing the incredible journey that has led me here. I never imagined I would reach this far, but here I am."
Miles added, "I aim to live my life to the fullest."
Of course, Miles isn't the only contestant that the Rio Linda/Elverta area has produced. Shane Q participated in "The Voice" Season 17 where he finished in the Top Ten.
The season 23 finale of The Voice also marked the farewell of veteran coach Blake Shelton, prompting the return of several familiar faces to bid him adieu. Camila Cabello, Jennifer Hudson, Nick Jonas, John Legend, and Adam Levine, all of whom had previously coached alongside Shelton, graced the stage with their presence. In addition, the audience was treated to special appearances by past coaches Gwen Stefani, Usher, Pharrell Williams, and the revered mentor Dolly Parton.